HARVEY S. BROSLER
PHOTOGRAPHER SPECIALIZING IN NON-PROFIT ORGANIZATIONS
I provide a unique volunteer service by furnishing professional quality photographs.
In this site, you'll find information about the services I have provided during the last 15 years and sample photographs. My services are also available to profit-making organizations which sponsor affairs where the funds raised are donated to non-profit organizations. Digital photographs are taken with only high quality professional digital equipment. Please contact me as soon as you have a need to determine my availability.
Digital images of representative photographs of the program will be furnished as a digital album which can be shared with others. That will be followed by a CD of all photographs cropped and modified as needed for commercial printing.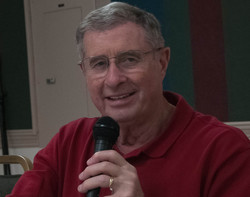 GENERAL INFORMATION
Prior to the event, I prefer to have a list of photographs to be taken before, during, and after the event (a Shot List) which you consider you need along with an agenda of events or printed program. Upon request, Sample Shot Lists will be furnished.

It is requested that someone familiar with the attendees be assigned to assist me to assure that you obtain the photographs you want, to take advantage of any unplanned photographic opportunities that may arise during the event, and to assist me with my equipment. That individual should have a copy of the shotlist to assure that all the photographs outlined have been taken and to document the names of the individuals important to the program and the organization so that the digital album can contain details with the photographs.
I try to arrive early to familarize myself with the facility layout and discuss any last minute needs. I plan to be available before, during, and after an event.

After completion of the event, the digital image will be furnished to you for your unrestricted use.